Driven by heart, persevering with purpose
The Kyle's Heart Foundation was established in 2007 to raise awareness about the need for tissue and organ donation and recognize outstanding teens in our community by supporting their advancement of their educational endeavors. This Foundation was established in honor of Kyle Hunlock, a 2002 Bath graduate who was in a work related accident in 2006. Applicants for the scholarship are required to meet an eligibility criteria based on who Kyle was and how he lived. The students who receive the scholarship are those who uphold the high standards that Kyle exemplified in his academic achievements, athletic abilities, leadership skills, strong faith, and community service activities.
The board at present is expanding our gifting efforts for the school year to include any local student from area school districts that meets the criteria for community involvement, civic awareness and responsibility, with a heart for caring and giving to others. This student could be recognized and acknowledged by their peers, teachers, faith leaders, or community leaders. This scholarship would be available for a student that has grade point of 2.5 to 3.5 yet has ambition for continuing education, by way of trade school or community college. This board has made a commitment to include any student that has the heart to give back and the determination to strive for knowledge with the character and morals that can make a difference in our community. Giving from the heart to affect our community.
Kyle's Heart News
Two Lives, One Heart, One Message - 2/12/2018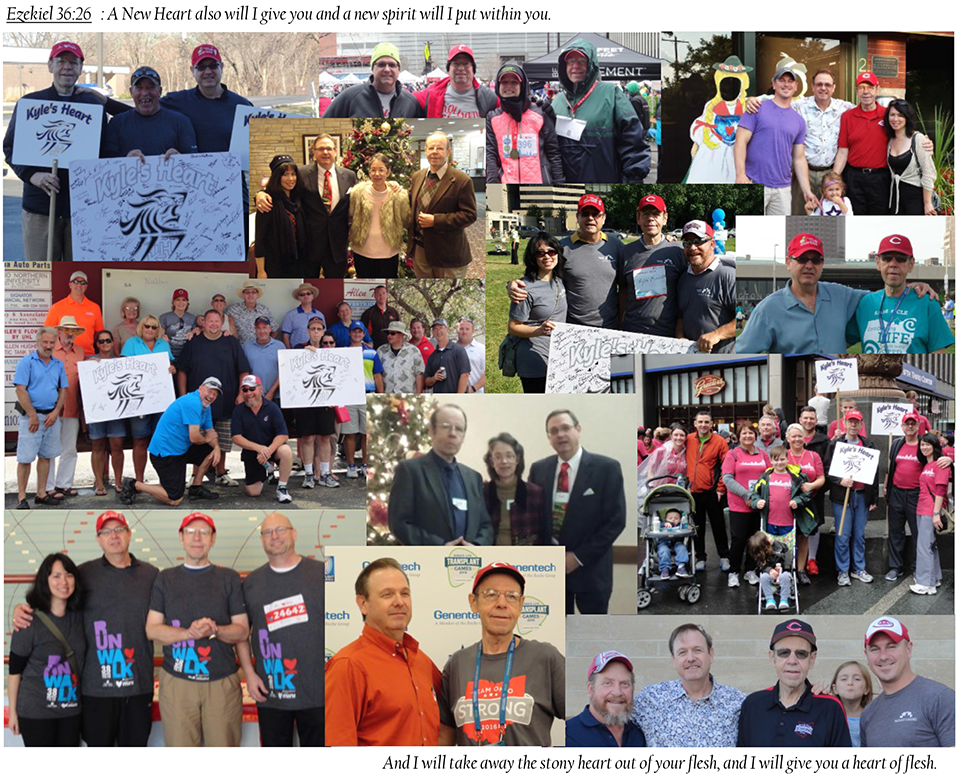 This week has been emotional for Kyle's Heart as we said good-bye to our dear friend, Jack Hunt. However, it was a true blessing to welcome him Home. We gathered together to celebrate Jack's homecoming and during the ceremony, we shared our hearts about our journey with him. Both Jack and Diane have made a strong impression on our hearts where they taught us about unconditional love and unwavering commitment to faith.
We celebrate Jack Hunt and Kyle Hunlock for the life, legacy, and wisdom you brought into our lives. You lived life by your faith; exampled love, compassion, and selflessness through not only your words, but through your actions.
C.S. Lewis states "There are far, far better things ahead than any we leave behind." We honor you Jack Hunt and will see you again soon. Good-bye is never forever.
Jack R. Hunt September 14, 1947 - January 28, 2018
It is with great sadness that the Kyles Heart's heart family writes to inform you that Jack Hunt has passed away. Jack's obituary.
Kyle's Heart newsletters Summer 2017
Kyle's Heart Newsletter Summer 2017

An update on Jack's health
Congratulating the 2016 Kyle's Heart Scholarship Recipients
Each year the Kyle's Heart Foundation presents scholarships at Bath High School to recognize outstanding students and support their educational endeavors. Scholarship recipients are selected based on academic records and contributions and leadership in the school and community. Five seniors, Madeline Mooney, Julia Evans, Marcus Zweibel, Hayley Adams, Laken Ambruster, were awarded Kyle's Heart Foundation Scholarship thanks to personal donations and fundraising efforts from the annual Kyle's Heart Golf Extravaganza. Congratulations and best wishes to the graduating class of 2016.
Kyle's Heart newsletters Spring 2016
Kyle's Heart Newsletter Spring 2016

Kyle's Heart Special Edition Newsletter 2016
We Are Small But Mighty – Team Kyle's Heart
The American Heart Association, an organization dedicated towards defeating cardiovascular diseases and strokes and promoting healthier lifestyles, kicked off the 2015 Central Ohio Heart Walk on August 22. Held at the Columbus Commons, this event focused on the importance and awareness for heart health and reducing cardiovascular risks. This year's event raised more than $1.6 million in which 30,000+ walkers came out to support this 5K event which celebrated the lives of donors and survivors and honored the memory of loved ones. Each of us had walked for a different reason however the message was clear that we walked in support of a greater cause.

For the 4th year in a row, Team Kyle's Heart walked as one of 109 teams that represented the Mount Carmel Healthcare System corporate team. The summer had gotten away from us however we still wanted to represent the Kyle's Heart Foundation and support the American Heart Association. Though we were a small team this year, we held our ground and made our presence known as we proudly walked and held up the Kyle's Heart sign for all to see. For the Kyle's Heart Foundation, this event touches the core of who we are due to the heart and compassion Kyle Hunlock displayed during his life and the gift of hope he brought to many including our dear friend Jack Hunt.

Spoken from the heart and resonating throughout the crowd, we heard the words, "Pay attention to what your body is telling you. Pay attention to your heart. Listen and act." Inspire to make the commitment to be fit and live a healthier lifestyle. Remember to enjoy today and every day. Celebrate life and the people who bring meaning into yours.

-MJ
The 9th Annual Kyle's Heart Golf Event – A Time for Family and Friendship
August 9th, 2015 marked the 9th Annual Kyle's Heart Golf Event in which 20 teams of fours participated to play a round of golf and support the Kyle's Heart Scholarship Program. Students receiving the scholarship exemplify what Kyle Hunlock stood for and continues to represent today. This year five exceptional seniors at Bath High School received scholarships with the support of funds raised by the golf events in addition to the many donors who continue to give to our cause.

This year's Kyle's Heart Golf Event was fortunate to be blessed with perfect weather which made for a great day to spend a Saturday with family and friends. As 10 am neared, the anticipation grew stronger as we waited for the green light to start the engines, rather the golf carts. Throughout the day, golf balls were flying, landing on the green and in the sand. Some were lost in the woods and landed in the shallow creek beds never to be seen again. The birds kept a low profile while the squirrels wandered the course however no squirrels were in injured during the event. Laughter could be heard including the occasional curse words being spoken which in some instances resulted in golf clubs being tossed alongside of those choice words. However all and all, it was a successful event where good times were had by all.

In addition to all the excitement on the golf course, there was a lot of buzz afterwards. Before the winners were declared, we had the opportunity to carry on with one another and share a meal. This year we were pleased to partner with Applebee's, one of our two main Event Sponsors which included Advanced Turfscape. We were grateful for the support of Larry Byers, General Manager, who coordinated the catering efforts and collaborated to have a "Dining to Donate" day on September 24th, at the local Lima, Ohio Applebee's in support of Kyle's Heart.

During the meal, various raffle prizes were awarded including a grand prize seven day trip to Caribbean's. A corn hole set was won and generously donated back to Kyle's Heart to raise additional funds for the scholarship program. Other prizes included a 50-50 raffle in which the winner generously donated half the winnings back to Kyle's Heart as well. These individuals showed the trueness in giving back to the community and what it means to be a part of the foundation that makes up the Kyle's Heart Team.

After the excitement of the raffle prizes commenced, the much anticipated winners were declared. Applauses could be heard as the winners collected their prizes and the event came to a close. It was a beautiful ending to a beautiful day.

See you next year.

-MJ
Dash for Donation – A Life Line of Hope
The summer was overshadowed with ongoing rainy weather conditions however God was certainly smiling on the 16th annual Dash for Donation which welcomed the much missed sunshine. Presented by the Lifeline of Ohio on Saturday July 11th, 2015 Dash for Donation was held at the Nationwide Arena District in Columbus, Ohio to raise awareness of the importance of organ, eye, and tissue donation. This family friendly event featured a 5K run/walk, a 1K family fun walk, and a Kids and Mascot Dash. This heartfelt event was filled with mixed emotions as thousands of participants; runners, walkers, and volunteers came together in a "Sea of Green." Participants, which included transplant recipients, transplant candidates, donor families, and many more came together wearing their green race t-shirt to celebrate the "Gift of Life" and bring a sense of healing.

For the 5th year in a row, Carl Hunlock, the Executive Director of the Kyle's Heart Foundation spent the morning volunteering with others who came together to share, honor, support, and remember. A donor wall of posters was proudly displayed, celebrating and commemorating the generosity of loved ones, putting a face to the heroes of donation. The Kyle's Heart Foundation displayed one of the many posters that carry signatures of people who have participated in various events over the year in honor of Kyle Hunlock.

Each person has a story, but collectively their stories unite and bind them together as a life line of hope.

-MJ
Celebrating the 2015 Kyle's Heart Scholarship Recipients
As I walked the halls of Bath High School, it made me reminisce about what high school was like for me and what I had gained from my own high school experience. Much like the graduating class of 2015, I was filled with a great sense of accomplishment and the excitement of moving on to college. However I was torn because we had been in the safe haven of the shelter called high school where we were competitive in our academic careers, athleticism and artistic talents. These are some of the things that shaped us, but this was only a part of our high school careers. Along the way, we met people; teachers and counselors who became our mentors and other students who became our friends. These people would ultimately influence us towards a greater understanding of who we are and who we wanted to become.

The emotions that filled the room could be seen not only between the students, but between the presenters of the many scholarships given out. For many, like the Kyle's Heart Foundation, they return year after year to honor their loved ones, making the difficult decision in their selection process. It takes them back to their own loved ones, remembering what they represented and what they will always represent, but also what today's youth can and will bring. The characteristics that were represented are still being represented today so it is privilege to honor these students and this great community because one parent said it best, "There are no bad students here." How many of us can really say that about our own graduating class?

This year the Kyle's Heart Foundation was pleased and honored once again to return to Bath High School for the 8th year to award 5 well deserved Kyle's Heart Foundation scholarships. Awarded at the Senior Breakfast, the seniors gathered together to share one last meal before the graduation ceremony that commenced the following day. This day had marked the official last day of their high school careers and the beginning of the next chapter of their lives.

At the end of the ceremony, a parent came up to thank the Foundation for awarding his son a scholarship. His words were touching and memorable when he said, "It's not about the money, but the honor in receiving this award." This gesture makes what the Kyle's Heart Foundation does and continues to do worth it.

Kyle is not just a memory, but he is someone that lives within us all. Whether we knew him personally or know him by association, we all have a little bit of Kyle within us.

-MJ
Featured on Cincinnati.com! - Source
Carl Hunlock (left) and Jack Hunt walk together in the 3 mile/5 mile Heart Walk on Sunday. Carl lost his son, Kyle, to an accident in 2006. A few months later, Carl learned that Kyle's heart was used for a transplant, which saved Hunt's life. The pair have raised money as part of the Kyle's Heart Foundation since 2007.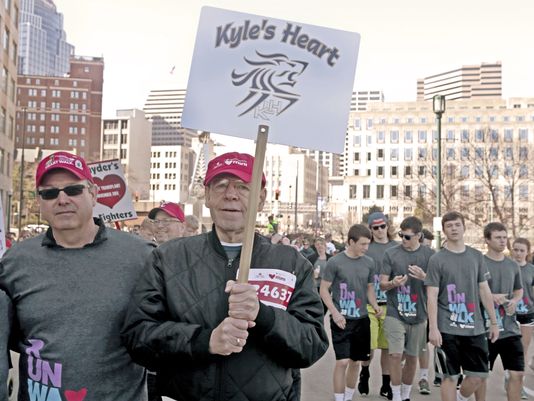 On the warmest Sunday Cincinnati has seen since November, 2014, 27,000 people filled Downtown streets for the Heart Mini Marathon presented by the American Heart Association and Mercy Health. Before The Heart Half and Mini Marathon along with additional, shorter events had even started, www.heartmini.org was reporting more than $2.5 million in pledges to battle heart disease, strokes and other cardiovascular disorders.

Among the participants surging down Fifth Steet for the 5 Mile Heart Walk, Carl Hunlock walked along side Jack Hunt. In 2006, Hunlock lost his son, Kyle. "He signed up to be an organ donor when he was very young," Hunt said. "He was gracious enough that he saved my life." Hunt was diagonsed with cardiomyopathy in 1992. After struggling with it for more than a decade, he needed a transplant.

Kyle's heart has allowed Hunt to work with Hunlock to raise money for heart research. Their first event together was the 2007 Heart Mini Marathon when they raised $14,000. Since then, they've raised money every year.

"We've been frozen, we've had a lot of heat, we've done a lot of things," Hunt said. "It's really been a good time walking."
Spring and Summer Events
The Kyles Heart Foundation is once again excited to participate in this year's 38th Annual Cincinnati American Heart walk/run 5K & 10K & 15 K events. This year's "Mini Heart 38" event is being held Sunday March 15th starting at 7:00am and running thru 12:00 noon. Team captain Jack Hunt will lead the Kyle's Heart team for the ninth consecutive year in partnership with University of Cincinnati Hospital. We urge everyone to consider healthy heart activities or lending financial support towards American Heart Association efforts. Better yet... Please consider taking part and signing up with the Kyle's Heart team and help us cross the finish line in awareness of heart health. This is a fun, physical, community event that brings together and unites thousands of people for a heartfelt cause.
Sign up or make a tax deductible donation to help save lives.

Please consider taking part or lending sponsorship support towards our "always sold out" and much anticipated 9th annual Kyle's Heart Golf Extravaganza. This year's event will be held at Colonial Golf Course, August 8th 2015. Registration at noon for 10:00 shot gun start. The event is a 4 man best ball contest with food, drinks, prizes, and featured T-shirt. This much anticipated event has been a consistent sell out so we urge all those interested to sign up early by contacting board members Mikey Ernest or Andy Herr. (Click the events tab for more information in registering) We look forward to another fun packed event and the always popular "dress for success. This event helps fund our scholarship efforts so we hope to see you out on the fairway.

This summer features an additional two events that are near and dear to our hearts. The first summer event is the Dash for Donation 5K awareness run/walk, which will be held July 11th at 8:00am (See information). The second is the Columbus American Heart Association Heart walk. This awareness event will be held on August 22nd and helps to spread awareness of heart health to Central Ohio. For the third consecutive year, Carl will captain team Kyle's Heart and lead Mt. Carmel New Albany Surgical Hospital in this 5 K event. We are honored to represent the highly acclaimed Mt. Carmel New Albany Surgical Hospital and help bring Jack Hunt to our area to share his story about Cardiomyopathy and organ donation. It's also an opportunity to honor Kyle Hunlock and the gift of life that he was able to share. Please consider taking part in one or all of these summer happenings as well look forward to seeing you.

Blessings,
Kyle's Heart Board of Directors