Scholarship Information
2016 Scholarship Winners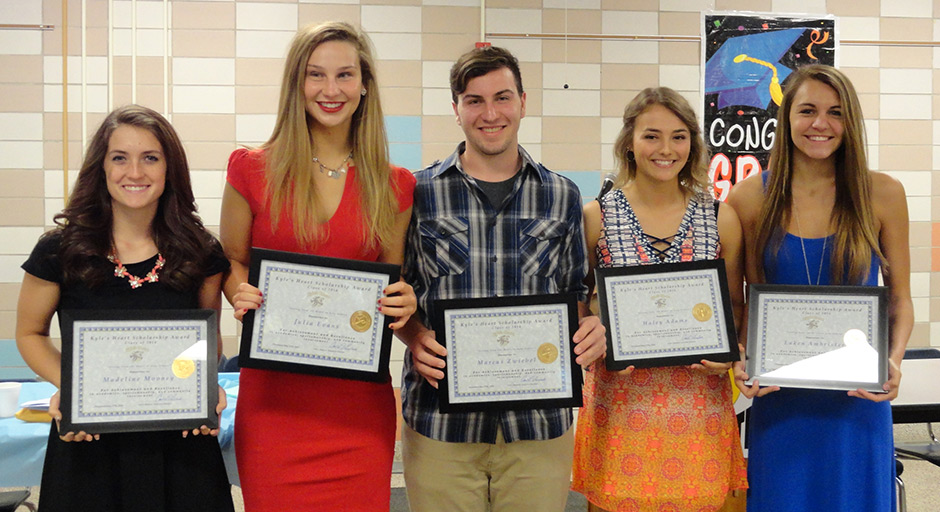 Madeline Mooney, Julia Evans, Marcus Zwiebel, Haley Adams, Laken Ambrister
Scholarship Qualifications
Applicants for the scholarship must:

Be a resident of Allen County
Be a student at Bath High School
Live in Bath Township
Have a history of participation in extra curricular school activities
Participate in community activities i.e. Scouts, Church groups

Applicants must be recommended by (choose any 2):

Teacher
Coach
Community Leader
Minister, Priest or Rabbi

Applicants must be of Good Moral Character:
In the event that any scholarship recipient has been convicted of a felony, drug abuse and or trafficking under the court of law, his or her educational scholarship will be terminated and he or she will no longer receive the benefits thereof.
Due Date:
The due date to apply for graduating seniors is May 1st of that year. The grant application along with the letters of recommendation must be submitted for the application to be considered. All Scholarship Documents can be submitted to the Bath High School Guidance Counselors office.
Download the KHF Scholarship Form
Administrative Policies
The Board of Directors of the Kyle's Heart Foundation has absolute discretion in selecting recipients of the Scholarship and in determining amounts of the said scholarship.
When an applicant has been named as the recipient of the scholarship, he/she shall by August 1 in the year of the scholarship present to the Board satisfactory evidence of his or her acceptance at a College, University, Trade or Technical School. The failure to do so will forfeit the scholarship opportunity for that recipient.
Scholarship monies will be paid directly to the College, University, Trade or Technical School of the recipient's choice and will not be paid to the scholarship recipient under normal circumstances. Monies will be paid in one lump sum at the beginning of the semester.
If the recipient becomes involved in any illegal or unethical behavior resulting in legal issues or litigation, the recipient will receive no further scholarship funding.
Past Scholarship Winners
2015

Sarah Blesiman, Cameron Jenkins, Mary Dackin, Wesley Patton, Cassandra Best

2014

Carl with Audrey Brandon, Heather Miller, Eric Heffner, Tara Herr, Jenna Hollar

2013

Caleb Norton, Sydney Meffley, Mitchell Skinner

2012

Jason Lauf, Kayla Mumaw, Madison Clark

2011

Carrie Ellington, Caitlin Kiracote, Emily Spragg, Johny Simindinger

2010

Muriel Smith, Shane Naylor, Stephanie Sanders

2009

Rachael Basinger, Kevin Korkate, Brittney Brock

2008

Amy LeeAnn Miller, Matt McKinney, Ben Wierman